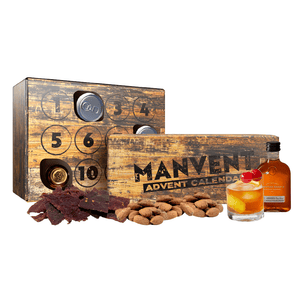 Introducing the ManVent Calendar - An Advent Calendar designed for the common man.  Forget the grooming and cologne advents...Behind each door lies manly man stuff like whiskey, jerky, spicy snacks and of course, top rated craft beer!

A Tried and True Favorite: The ManVent Advent Calendar has proudly sold thousands of units to discerning men across the US. Earning accolades and features in major publications like Spy and Good Housekeeping, it's not just a product, but a recognized staple of masculine refinement.
We don't want to give away the surprise, but here is summary of the manly goodness he will discover behind each door (We promise to only send good stuff):
🍺 BEER!
🌶️ Spicy and Salty Snacks
🥃 Manly Cocktails
🥩 Jerky
🔨 An Everyday Carry Tool
How much does it cost to send my Advent Calendar for Men?
Ground Shipping (1-5 Business Days) - $15
Can I send a personal message with my ManVent - Advent Calendar for Men?
Yes! When you proceed to checkout, there is a box which allows you to add a personal message to your ManVent Calendar. The message will be placed with your gift so the recipient will be sure to find it.
When will my ManVent Calendar be shipped?
The ManVent Calendar for Men will start shipping in mid- November, 2023. Thereafter, orders will be shipped within 1-2 business days. We work seven days a week to ensure speedy shipping and delivery before the countdown to Christmas officially begins!