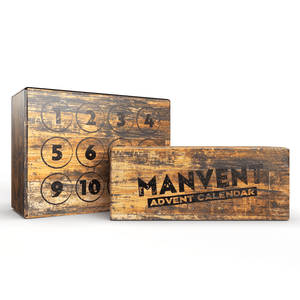 What are two of man's best friends?? Beer and jerky of course! Feed his carnivorous habit with a full pound of scrumptious meat delicacies, then wash it down with six top rated craft beers from America's top breweries. This curated beer and jerky bundle passes the man test as an amazing assortment of manly goodness. Behind each door lies an experience he will be talking about until next year's ManVent arrives. Manliness Delivered to His Doorstep! 
Contents:
6 - Top Rated Craft Beers from America's Top Breweries
Each beer has been hand selected based on its high rating (95+) and style from well-known breweries across the US. This assortment includes a variety of IPAs, Stouts, and Ales
6 - Award Winning Jerky from the best in the business (Full size -  1 - 3oz bags)
Epic Bison & Bacon Jerky

Pony Express Applewood Smoked Beef Jerky

Bob's Exotic Animal Jerky - An Assortment of unique meats from Alligator, Ostrich, Elk, Venison, Buffalo, Boar, Duck, Kangaroo, Peasant and more 

People's Choice Sweet Habenaro Chili Beef Jerky

Jerky.com Chipotle Bourbon Beef Jerky
*Please note that we may have to substitute the flavors or brands listed above, but rest assured it will always be manly and delicious.
How much does it cost to send my Jerky and Beer ManVent Calendar?
Ground Shipping (1-5 Business Days) - $15
Someone 21 years of age or older must purchase and receive this Jerky and Beer Advent Calendar. An Adult Signature is Required Upon Delivery. Even with busy schedules, we have several delivery options that will ensure your gift is delivered. Check out our Delivery Information page for more details.
Can I send a personal message with my Jerky and Beer ManVent Calendar?
Yes! When you proceed to checkout, there is a box which allows you to add a personal message to your Jerky and Beer Advent Calendar. The message will be placed with your gift so the recipient will be sure to find it.
When will my Jerky and Beer ManVent Calendar be shipped?
Jerky and Beer Advent Calendar orders will be shipped mid to late November. Thereafter orders will be shipped with 1-2 business days. We will work seven days a week to ensure the fastest shipping date to get your awesome gift there with plenty of time to spare. Please reference the shipping information page for any further details.

Does someone need to be present when my Jerky and Beer Advent Calendar is delivered?
Yes. Someone 21 or older will need to present a valid photo ID upon delivery of all Jerky and Beer Advent Calendars. Check out our Delivery Information page for more details.